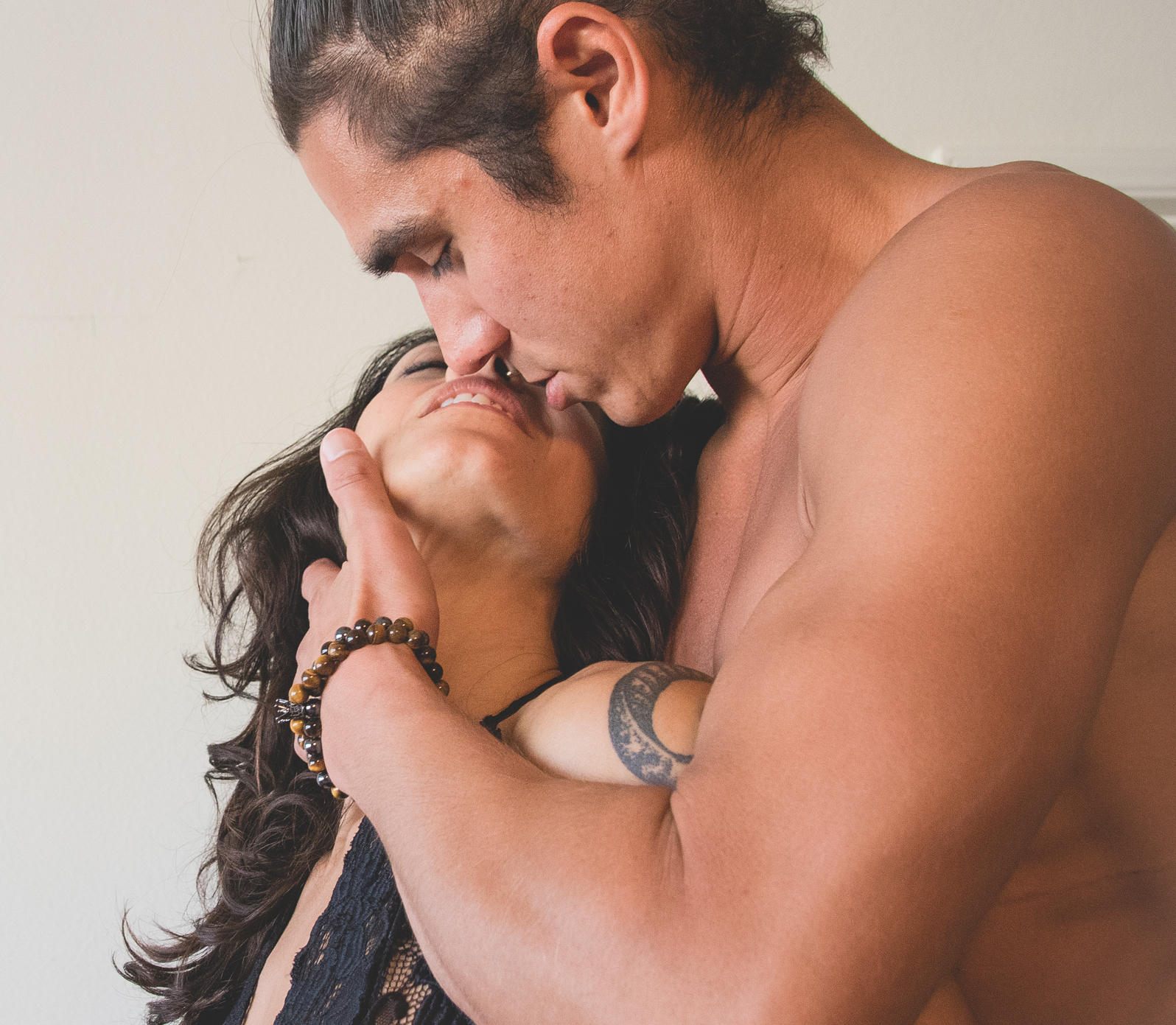 "Your Wife Is Absolutely Beautiful, But You Can Hardly Touch Her Without Feeling There Is Something Deeply Missing Between You . . ."
Would you like a new-behaving (attentive, interested) wife, a new "young" sex life, being the envy of (grudgingly) admiring buddies, and always feeling like THE man wherever you go?
What if there was a magic switch you could just flip and suddenly your wife's 'low-desire sex drive' was reversed and her sexual energy activated?
Can you imagine all day foreplay and a connection so intense you can FEEL what's going on in your wife's heart even when she's not right there 'with' you?
My name is Ryan P. Lampe, and I have what most guys would consider a 'high-desire sex drive'.
I've been married 15 years to a super sexy woman named Luci, and together we've been working hard to raise 4 kids and create the life we love.
About 4 years ago, one of my biggest struggles was our mediocre Sex Life.
I just wanted to have sex 3-4x times per week, and more importantly, what I really wanted was for Luci to strongly DESIRE sex with me.
After I had tried everything under the sun to 'fix' this issue for over a decade, I was stumped.
From making sure SHE came first (especially in the bedroom) to reading hundreds of marriage, relationship, and communication books and being the very best loving husband I could,
NOTHING was giving me the exciting sex life I craved and had always dreamed and fantasized about.
So I started diving deep into relationship workshops, trainings, and immersive events working with coaches and mentors who were helping me get big results in my marriage,
But none of these guys (or anyone I knew who was married with kids) had the Sex Life I truly wanted either.
Most of them had conservative wives from religious backgrounds (just like mine) who seemed to limit the opportunity for radical Sex Life potential.
One day after attending an emotional intelligence workshop with Luci, we got into a huge fight that left me feeling very sexually rejected and destroyed as a man.
But the result of that fight lead to the discovery of massive mixture of dark emotions in her that unlocked a new level of arousal and sexual desire she'd never had before.
Something had been UNLOCKED… There was a lot of hidden sexual passion and desire buried deep beneath all that pain.
Fueled by this new 'secret' discovery, I built step-by-step frameworks (blueprints) to give me the insights or "gifts" I needed each day to connect even deeper with my wife's heart and unlock new levels of sexual passion and desire.
Our Sex Life grew like WILDFIRE.
We went from having vanilla sex 0-3x per week to having exciting kinky sex almost every day of the month, EVERY MONTH (even on her "shark weeks").
She even asked me to start an Only*Fans page together (literally something I could never have imagined either of us doing)… and we DID!
But what's been even more special than all that is the FEELING I have deep inside me all the time.
I feel beyond loved. I feel beyond powerful. I feel like a King, worshiped by my wife in and out of the bedroom.
And I really love experiencing the new magic unlocked in my Queen more and more each day on this exciting journey together!
So Now It's YOUR Turn… Let Me Introduce You To The Blueprint That Made All This Possible...
SIMPLE. STRAIGHTFORWARD.
EASY-TO-USE.
The Wildly Connected Blueprint Walks WITH You Step-By-Step To GIVE You the "Gifts" You Need Each Day to Connect With Your Wife's Heart On A Deeper Level and UNLOCK New Levels of Sexual DESIRE! (no matter how "not sexual" she is)
So That You Can…
🎁 Experience more sexual PASSION, FIRE, and DESIRE (and overall HAPPINESS) inside your marriage without bedroom burnout.
🎁 Have all the sex you want, HOWEVER you want, (even if your wife has been very unwilling in the past!)
🎁 Get to experience an even "sexier" wife who exudes more "aliveness" and sexual energy (who'd be open to wearing those sexy little outfits you like around the house more often)
🎁 Create your own uniquely special erotic, "kinky", playful, and sexually SUPERCHARGED marriage that brings life to your family, friends, and everyone around you!
🎁 Become the fun, cool, WILDLY CONNECTED POWER COUPLE everyone wants to be around! (and always feel like THE man wherever you go)
🎁 Experience increased magnetism and natural gravitational pull (having your wife wanting to chase YOU and JUMP YOUR BONES), and experience the "aliveness" and sexual energy you used to feel back in your prime!
🎁 Create more and deeper connection, intimacy, and trust (and mutually feel VERY seen and heard more often)… with LESS nagging, complaining, and criticizing.
🎁 Get to know your wife better than you've ever dreamed AND finally get all the recognition, respect, and appreciation you crave from her!
🎁 Feel & Experience Real, Raw, Uninhibited, INTENSE Aliveness & Passion That NO ONE CAN TAKE AWAY FROM YOU!